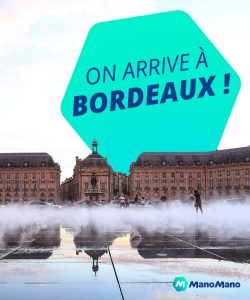 Following the example of these big names in digital such as OVH, BackMarket or even Sigfox, Ubisoft and Betclic, ManoMano announced on 5 November 2018 its imminent arrival in the capital of "good living": Bordeaux. Indeed, its offices are going to be expanded in the heart of the sleeping beauty, today well in the centre of theweb effervescence as evidenced by this new announcement from the marketplace.
A continuously growing marketplace
Created five years ago in Paris, the marketplace specialising in DIY and gardening items was founded by Philippe de Chanville and Christian Raisson, two precursors of the future of the web: the specialised marketplace.
ManoMano is constantly growing and has nearly 1,600 merchants on its platform and has about two million customers to date. They can't get enough of it and they're right! Digital does not wait and the tools marketplace is an example of its development.
In short, ManoMano is :
→ 6 markets: France, Belgium, Spain, Italy, Germany and the UK
→ + 200 employees in less than 5 years
→ a new member of the Google Scale-Up VIP program (top 10 French start-ups)
→ the best e-commerce site 2015, elected by the FEVAD
Techweb specialists made in Bordeaux
It's official! The company ManoMano has set up shop at the beginning of this year in the centre of Bordeaux. The marketplace was mainly looking for developers and data scientists in order to continue its deployment. A deployment that has been well established for several years now, a deployment that is now tending to be perfected on the technical side.
The first newcomers from Bordeaux arrived "from Paris (certainly by train) with love" in November 2018 in temporary premises, and will be joining the coworking space of theaccelerator Héméra. Soon, the future team of the marketplace will be complete and will be able to start the planned tech "work" thanks to new DIY team members who responded to the humorous call of the company's recruitment ads...
"Work plan in PHPMarteau in Symfony 3DLast drill MySQLTourneGit multi-functions++ Knowledge of e-commerce issues++ Experience on volumetric sites".
A powerful "gorged" marketplace!
From its beginnings...
Philippe de Chanville explained to capital.fr that "Every Monday, we told each other about our weekend exploits" and Christian Raisson also added that he was not fully satisfied with the market players "The time wasted at Leroy Merlin, Castorama and others, their prohibitive prices, their zero level of advice...". So in 2012 and with 25,000 euros each, the two friends decided to leave Otium Capital and to focus on their passion market: DIY.
...to its apotheosis
Today, ManoMano is growing largely thanks to a €60 million fundraising in 2017 that allows it to maintain its position as a leader in the marketplace. How? By negotiating ultra-competitive prices for its products, without taking care of delivery, just like its competitor, the marketplace Amazon!
The strength of the marketplace lies in its personalised recommendations and the emphasis on community opinions: customers have real advice on each product sheet, which in a way embodies very concrete and detailed "manuals" for use. The community is at the heart of the strategy: it can interact and communicate by contributing to product information and usage. A real world of tools by ManoMano!
Bordeaux or the new ideal workshop for DIY enthusiasts on the internet
With its easy access to the metropolis and its effervescent economic centre, where many digital players are now based, there are many advantages to settling in the heart of the South West. Bordeaux is a great place to live. In Bordeaux, the sun shines. In Bordeaux, we drink good wine and life is good!
" We are delighted with our imminent arrival in Bordeaux; it is news that immediately delighted our employees, who are excited by the quality of life the region offers. We also strongly believe that the attractiveness of the city will enable us to recruit the best tech talent, particularly developers, and thus accelerate our development."
Philippe de Chanville and Christian Raisson announced in a press release issued on 5 November 2018.

To be remembered: ManoMano is the new "Bordeaux unicorn", a trendy unicorn that is well on its way to conquering the digital market in Bordeaux!