At the beginning of this year, we present you with some of the new features Google has announced for 2021. After reading our article, we invite you to test these programs for yourself according to your interests and needs as a merchant. Test and Learn remains a golden rule!
Automatically Applied Recommendations (beta)
For a few years now, all Google Ads accounts have had the "Recommendations" tab, through which Google makes several suggestions to improve the overall optimisation rate of your campaigns. The final goal announced by the Mountain View firm: to take full advantage of the potential of your campaigns to improve their performance on the search network.

Recently, the company has developed a new tool called Automatically Applied Recommendations. Still in beta version, a whitelisting request, which can be granted or refused, must be addressed to your account manager to activate it.
As the name suggests, the AAR tool automatically applies suggestions from your Google Ads account based on your campaign history, settings and Google search trends:
Auction modification (for manual campaigns) ;

Adjustment of target CPA, target ROAS (for automated campaigns) ;

Adding or pausing keywords ;

Creating, editing and pausing advertisements ;

...
The launch of this tool further demonstrates the shift Google has been making in recent years towards automating Google Ads campaigns, guided by the effectiveness of machine learning. By using the targeting power of its algorithm, it ensures that campaigns are managed according to its best practices.
However, you can select the automatic recommendations you wish to activate in your Auto Applied Recommendations interface. This way, you have control over what is automated and what is not.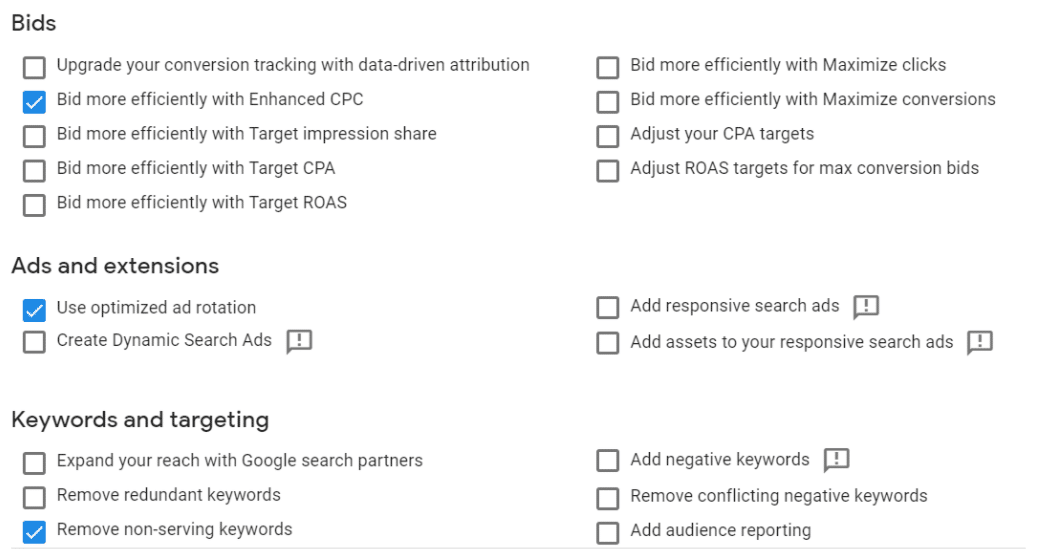 To save time, certain recurring and time-consuming tasks can be activated and thus become automatic. These include deleting redundant or conflicting keywords, pausing keywords that have not generated any traffic or creating new ads.
Google Ads accounts offer the possibility of consulting the modification history in order to know which recommendations have been applied automatically. However, this new feature has one important limitation: a change that has been made cannot be directly undone.

Finally, it should be noted that no automation is applicable at the level of the budgetary ceiling, the merchant thus retaining absolute control over his budget.  
Our advice: 
Automate time-consuming tasks. 

For more strategic elements that directly impact your bids and objectives, test and analyse the results.
Image extension (beta)
At Feed Manager, we have been waiting for the activation of this beta in France with impatience! For 2 months now, it has been possible to set up image extensions(after a successful whitelisting request). These allow you to display an image to the right of your Google Ads (exclusively on mobile).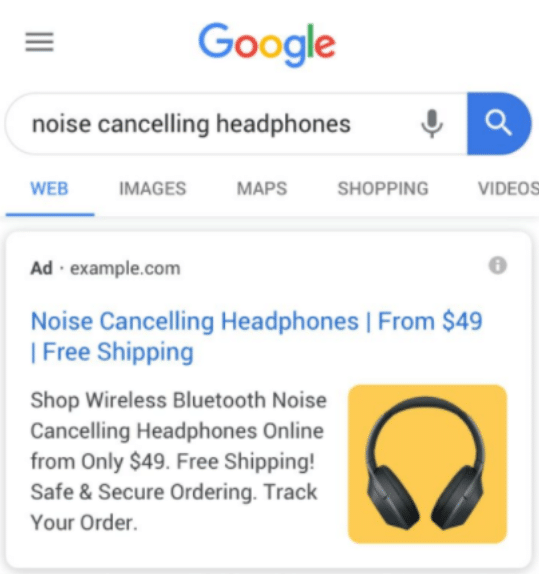 Our advice:
Make sure you respect the specificities required by Google. Make sure you include an image related to your ad. Submit a quality image, highlighting your products, service or universe. Avoid using the same image for all your campaigns. And of course, test and modify if necessary.
The results of activating this extension for some of our clients are promising for a test phase. For the moment, this type of extension is displayed infrequently, but when they are released, they should be displayed more often and generate significant traffic. Note that currently the CTR (click-through rate) is quite high: between 15% and 20% on some search campaigns.
Dynamic Mode 

Recently, it is also possible to use the "dynamic" mode for these image extensions. After crawling your site, Google retrieves an image that it dynamically integrates into the ad. The extension is quicker to activate in this way. However, you must certify that you have all the legal rights to the images present on the ad landing page.
New Customer Acquisition Campaign (beta)
If your overall strategy is geared towards customer acquisition, you are launching your first offers on Google shopping or your manager is pointing out the number of new customers at every meeting, the operation of Smart Shopping Campaigns "New Customer Acquisition" can be very useful.
Launched in 2020, this type of Smart Shopping campaign differs from "standard" Smart Shopping campaigns because of its ultimate conversion objective: the value of a new customer is added to the value of the purchase.

To do this, Google needs to be able to distinguish between new and existing customers. Several methods exist. The most common and easiest is undoubtedly the automatic detection by Google (via the Google Ads tag implemented on your website) which automatically creates an audience list based on the last 540 days of activity of the campaign and on the tracked purchases. By integrating this new customer data into your Google Ads account, the bidding strategy of your Smart Shopping campaign will evolve.
Ultimately, the objective of this campaign is to better distribute your budget according to the qualification of the visitor. The interest is to indicate to the algorithm a different profitability objective depending on whether the purchase of a product is made by a loyal customer or by a new customer. Budgetary and advertising efforts can thus be reduced as soon as a known customer is identified.
Our advice:
Determine the value of a new customer wisely, taking into account all the necessary KPIs (source of acquisition, average basket, life of a customer, number of purchases over a given period, etc.). After the activation of this new campaign, monitor its learning period of about a month, avoiding as much as possible any major changes.
New LIA Store pick-up options
Local Inventory Ads now offer the possibility to display two options:
Pick up later;

The Curbside option.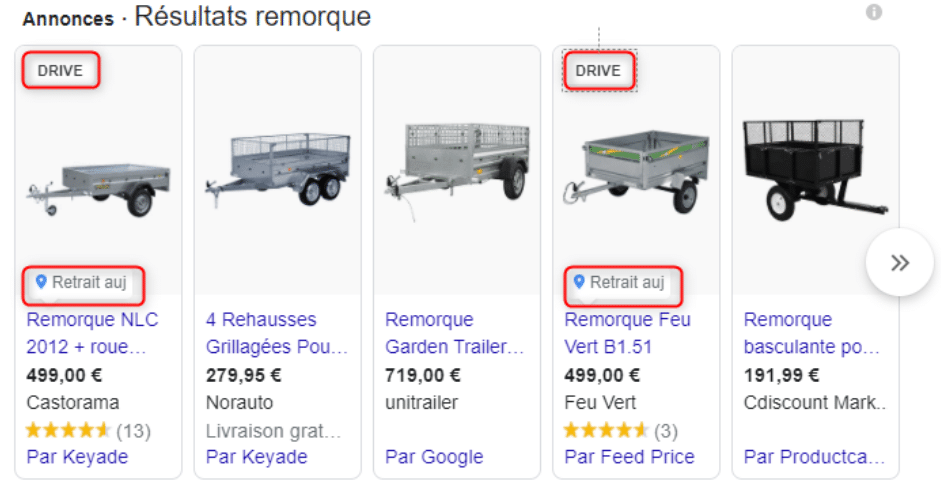 To activate them, certain conditions must be met:
For Pick up Later: the time allowed for collection in shop must be clearly indicated on the site when the order is finalised;

For Curbside: the option must be indicated on the site.
In addition to displaying these options on the merchant's site, the feeds will need to provide additional attributes, either in the LIA feed if you are already present there, or PLA, if applicable:
Identification of products eligible for in-store collection;

Information on the average time taken to withdraw the product.
The emphasis on in-store collection allows merchants to continue their business, while making life easier for consumers and guaranteeing their safety. In a context where physical contact must remain limited, these services help increase consumer engagement with retailers. 
These options can be activated once the Google Forms Pick up Later and Curbside forms have been submitted for review of compliance. They are currently only available in the following countries and geographical areas: Europe, Middle East, Africa, UK, Germany, France, Switzerland, Norway, Sweden, Denmark, Austria, Spain, Italy, Netherlands and Poland.
Market Insights Programme
On the Merchant Center side for e-commerce sites and retailers, the Market Insights programme provides access to exclusive market data to help companies define their marketing and sales strategy. This data is mainly available in two reports:
Price competitiveness: indicating the average price at which a product is clicked on in Shopping ads;

Bestsellers: list of the most popular products in the Shopping ads.

Available since 2019 under the "Growth" tab, these reports have recently been updated. The data can now be exported to the Google Cloud using BigQuery, allowing for advanced analysis and the ability to combine this data with merchants' own data. In addition, the "Best sellers" report has been enriched with new data giving access to more information than before (size, colour, gender, etc.). 
The Market Insights program is available to all merchants with a Merchant Center account in the following countries: USA, Germany, France, UK, Netherlands, Japan, Austria, Canada, Sweden, Italy, Spain, Switzerland, Denmark, Czech Republic, Belgium and Russia.
Our advice:
If you have a pricing team, it may be worthwhile to provide them with this market data.
Google Ads Insights

Google Ads has a similar tool. It provides merchants with an overview of search trends based on Google queries. This information is updated daily and concerns both the overall account and the Shopping campaigns.
In-store promotions
Promotional codes can now be featured directly in Local Inventory Ads (LIAs) in order to draw attention to one's own Shopping ads and encourage action, thus improving engagement rates. The main condition to access this new feature is to have an existing LIA feed. This is the same implementation and display process as for promotional codes, which are certainly already used by merchants on their Product Listing Ads (PLA). 
Currently in beta, participation in this new programme is, for the time being, subject to an application form to Google and is only available for the following countries: USA, UK, Germany, France, India, Austria and Canada.
New version of Partner Shopping Campaigns (beta)
Specially designed for brands and merchants wishing to optimise their trade budget, the Shopping Campaign with Partners (Shopping Campaign with Partners) allow brands to boost the advertising done by merchants on their own products with a dedicated budget. In exchange, for the products receiving this budget boost, the merchants get more traffic on their site.
Available only in beta version and therefore subject to a request by form to Google, the new version of Google has the following advantages:
Simplified set-up for merchants;

Improved auction management to allow brands and merchants to manage their auctions independently to meet their respective objectives;

Access to more information from Google in Google Ads reports to better understand the impact of brand contribution. 
SCwP campaigns are compatible with both "classic" shopping campaigns (PLA) and smart shopping campaigns.
This new feature is only available in the following countries and geographical areas: Europe, Middle East, Africa, Austria, Belgium, Germany, Denmark, Spain, France, United Kingdom, Ireland, Italy, Netherlands and Turkey
The year 2021 promises many innovations that we have already had the chance to test as a partner agency. Many of them are still in beta version and therefore depend on whitelisting. 
Don't hesitate to keep an eye on and prioritise the new products to be tested according to their relevance to your sector, always bearing in mind the objectives that your company has set itself.
For more information on these new features, you can visit the Google support or contact us.